CAN is the grassroots movement that is drawn from Labor people that are organising others to fight for a better Australia.
A HEALTHY AUSTRALIA
When it comes to healthcare, Labor believes that it should be your Medicare card and not your credit card that determines the level of health care you get in Australia. Every man, woman and child should get the help they need, when they need it.

We live in a society that gives every person an equal say and vote. Likewise, Labor believes that every person deserves access to the same opportunities and the same support, regardless of their circumstances. The Community Action Network is the grassroots movement that is drawn from Labor people that is using organising to empower other to fight for a better Australia.
Australian healthcare is built on the ideal of the many helping the few. It shouldn't be determined by what sort of insurance they can afford.
MEDICARE. NDIS. BETTER HOSPITALS. THIS IS LABOR
In 1983, Medicare was established by the Hawke Labor Government. For the first time, every Australian had subsidised access to doctors and hospitals. It's not just about getting urgent care in an emergency room or a life changing appointment with a specialist. Medicare offers the security to millions of Australians that if they need help, our universal healthcare system is there to help.
Over the decades since, Labor has fought to protect and even expand Medicare. In 2013, it was Labor that legislated the new National Disability Insurance Scheme and it was Labor that has fought ever since to get it funded.
In Victoria, Labor has built and improved our local hospitals. Whether it is building state-of-the-art cancer treatment facilities, expanding our regional hospitals, improving the Royal Children's, or supporting our hardworking nurses and paramedics, Labor governments have continued to invest in our public health system to ensure it can continue to help millions of Victorians every day.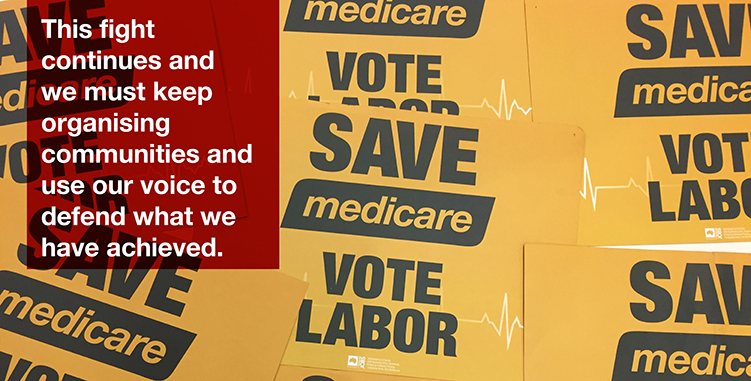 TORIES HAVE A POOR TRACK RECORD
From the very start, the Liberals have opposed Medicare. In 1981 they shut down the original Medibank, the Whitlam Labor Government's first attempt to establish universal healthcare. Since then the Liberals have tried to destroy Medicare with a 'user pays' system that offers little to those who can't afford it, while every Liberal government has cut funding to public hospitals.
John Howard introduced the Medicare levy to drive patients onto private health cover and his mate Tony Abbott's 2014 cuts to hospital funding, the GP co-payment and Medicare freeze are infamously legendary. In 2016 Malcolm Turnbull ripped funding from pathology and diagnostic imaging, making patients with chronic illnesses pay more for vital tests and scans.
In Victoria, previous Liberal governments have slashed funding and even closed hospitals. Hospital waiting lists continued to grow while the Liberals waged harsh and unfair wars on nurses and paramedics. Former premier Ted Baillieu even refused to fund the nearly constructed Olivia Newton John Cancer Centre. It took thousands of people like you banding together and speaking up to force the Liberals to fund a cancer treatment centre.
The Liberals had to be forced into funding a cancer treatment centre. What's next?
YOUR VOICE IS NEEDED TO DEFEND OUR PROGRESS
Everyone deserves to get medical help when they need it. Liberals are only interested in providing for those that can afford it. Volunteers in the Community Action Network have been campaigning to protect Medicare and support progressive Labor governments that continue to invest in our health care. This fight continues and we must keep organising communities and use our voice to defend what we have achieved.